Phantom
Foster Phantom is our innovative proposal to integrate stainless steel sinks into kitchen worktops of different materials.

The collection of Foster Phantom products is available in the versions BASE and EDGE, which stand out for their elegance and functionality.

The Foster Phantom line is designed for specialized professionals able to integrate these solutions into a kitchen worktop.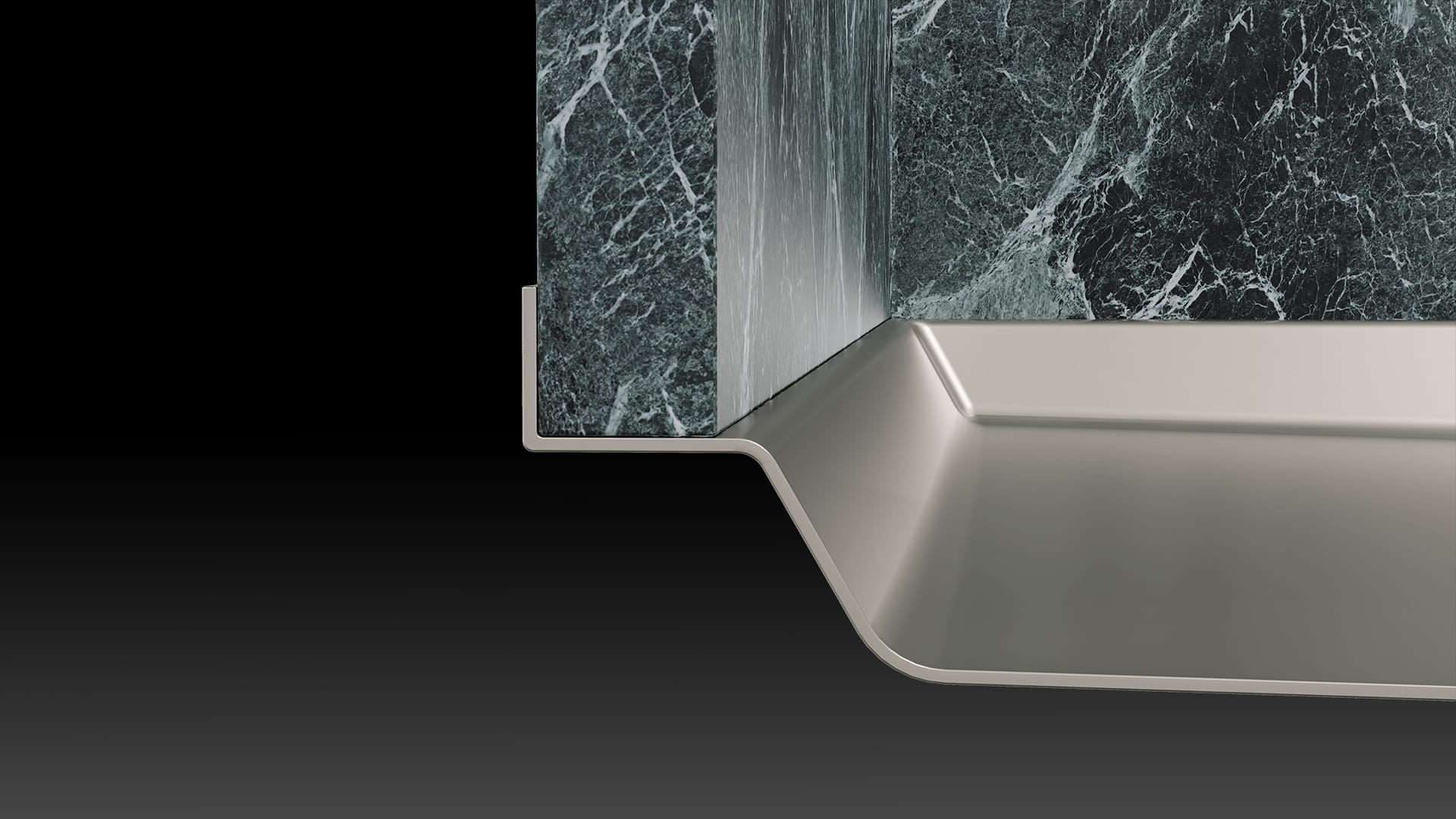 Phantom BASE
Phantom BASE is the new proposal of 304 Grade Stainless Steel sink beds which can be integrated in sinks made of slabs.

This solution couples the practicality of stainless steel to the advanced technology of solid-surface materials that are nowadays available for worktop manufacturing.

The Foster Phantom BASE solution makes it possible to couple stainless steel to any surface of choice for one's kitchen worktop.
Phantom BASE installation
Phantom EDGE
Phantom EDGE is the first stainless steel bowl system with total absence of edge. The lack of edge confers an exclusive design to the product, with no visible points of junction between worktop and bowl.

The bowl is integrated directly in the worktop; Phantom EDGE is available for coupling with worktops of 12mm or 20mm thickness.

It is possible to obtain custom-made models for a different worktop thickness, with Minimum Order Quantity to be defined.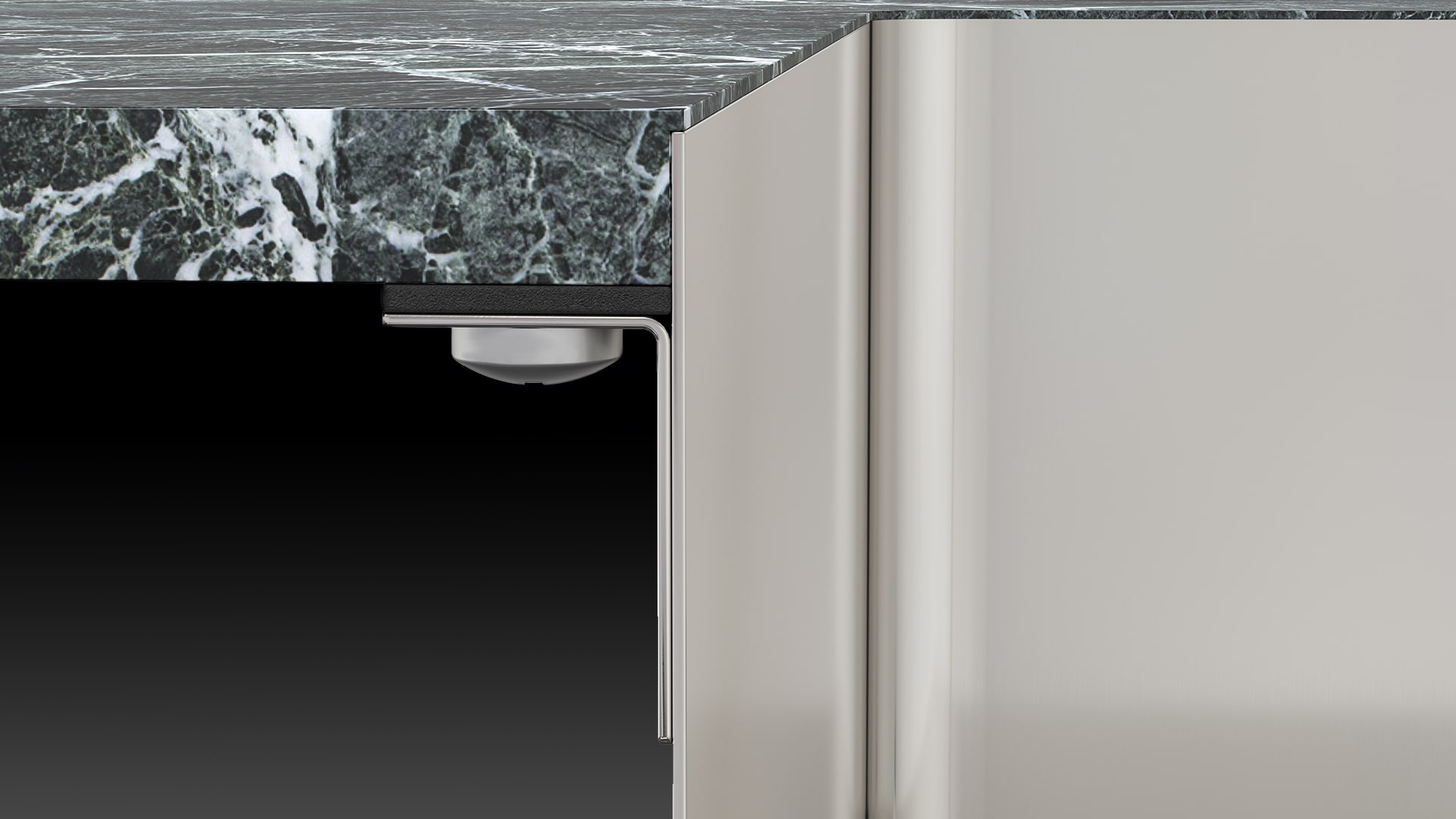 Phantom EDGE installation
The Phantom BASE range is available in Brushed Stainless Steel and PVD finishes Gun Metal, Copper and Gold.

Brushed Stainless
Copper
Gold
Gun Metal
The Phantom EDGE range is also available in Brushed Stainless Steel and PVD finishes Gun Metal, Copper and Gold. Moreover, the Phantom EDGE collection is also manufactured in the Vintage PVD versions, offering a finish that doesn't fear the wear & tear of time.

Brushed Stainless
Copper
Gold
Gun Metal
Vintage Brushed Stainless
Vintage Copper
Vintage Gold
Vintage Gun Metal
Our PVD finishes give stainless steel an elegant and sophisticated colouring. They are obtained through a physical process, not a chemical one, which offers a resistance superior to any other material
Properties of PVD stainless steel
exceptional superficial hardness
more resistance to wear & tear and abrasion
more resistance to corrosion
insensitivity to UV rays
eco-compatibility
hypo-allergenic
Complete the Look
As a complement to the Phantom BASE and Phantom EDGE, we suggest the captivating Luca Sink Mixer, or the Elias Pull Out Mixer.

The Luca is available in Chrome, Oiled Bronze and Gun Metal finishes. While the Elias offers an even larger range with finishes extending from timeless Chrome & Matte Black, to the extended family featuring Oiled Bronze, Black Chrome, Gun Metal, Brushed Nickel and Grey Wolf

Finally, each bowl can be completed with a range of accessories in steel, iroko wood, crystal and HDPE, featuring sleek design and great functionality; the ideal way to improve any operation in the kitchen.